Goodness, it's Friday and a New Year.
I have been cutting out my fabric and packing for my trip out of town. Just not my suitcase yet.
I will be heading out to pick up my rental and leave tomorrow for the big city.
First my grand-daughters birthday is Sunday. The big 7! Yes, 7!
Then meet up with the DH on Monday!
He is working all week up in LaPorte.
Later in the week, I will be going thru my daughter's personal belongings and later packing up what we are keeping. We already went thru the children's belongings and their father came to pick them up. The children are with their father and they spent Christmas with us at my son's home.
They all look like they are coming along well and had a wonderful time.
Now the hard stuff.
I will be out for a few weeks, but checking in.
I finally have my featherweight back from B&B here in Victoria. Looks like the bobbin plate was put in backwards. How, I will never know. Not by me! I am happy she works. It is so easy to tote around on my trips than my PFAFF.
I only hope to get some sewing done while away.
I want to get a head start on my project for March.
Nancy Drew Blog Hop!
Click on the schedule
here
.
You will see I am on day two.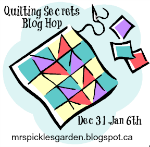 Today is day 5 of
Quilting Secrets Blog Hop
@ Mrs. Pickles Garden. I have picked up several quilting tips and won a give-away on day one. This is one of my best blog hops ever.
Quilting Secrets!
Also, Pam from Heartspun Quilts is hosting another Sew-Along.
Pocket Patchwork Orphans and Scraps
. She will be posting every Friday during the month of January. She has great tips on Flying Geese today. My flying geese do not come out as well as hers. Practice, Practice, Practice here! I will be following along and hope to show what I come up soon.
On Monday, Linda from Buzzing and Bumbling is hosting a In Your Words Blog Hop. You can check the schedule
here
along with Madame Samm on her
blog
.
If you are up for a free block of the month in 2013, check
here
. The Civil War Quilts blog is hosting a monthy block and will start tomorrow.
If you want to get creative, head over to Amy's blog from
Amy's Creative Side
. The pattern is free on
Craftsy
and this will be a challenge for me. TRIANGLES!
Cindy over Quilt Doodle Doodle is hosting a 2013 BOM this year. Check out her blog
here
. She has a tutorial easy for me to follow and I hope to keep up this year.
I hope to sew many projects this year. With me traveling with my DH on his business trips, I am going to try my best.
Hope you are all snuggling up in a warm place. This is south Texas and the weather has been in the 40's all week.
Happy Quilting,
Judith, Texas