It is too cold down in south Texas. Where did the sun go!
I spent the day in my studio sewing. I finished up the Summer Star from Temecula Quilt Co. Sew-Along earlier this past July. With all my scraps this was a great project to practice my HST's. It was also one that I had in my UFO bin. I lost count of my UFO's.
I tried out my FMQ. It did not go well, but it is my first on my PFAFF. I have many scraps to practice on. I do better with my FHS (free hand sewing).
This past Christmas I got to see all my Sweetie Pies!
What a wonderful sound to hear all the grandkids having a wonderful time.
I will miss all of them on New Years and wish them all a safe and happy New Years celebration at home.
My WDH and I are staying home. Last year we celebrated with my children and watched all the fireworks. It was the best time with my children.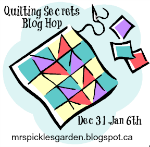 She is leaving clues on her blog and check out all the give aways.
I am ready for the clues. This will be fun.
Christine from Quilt Monster in my Closet has openings for a Dresden Blog Hop. She is Cheerlearding for Madame Samm at Sew We Quilt.
Sign ups are open till the 6th of January. Click here for more information. Hurry up, it starts January 24, 2013.
I want to wish everyone a safe and Happy New Year.
I am taking a break from my studio.
I will see you next year.